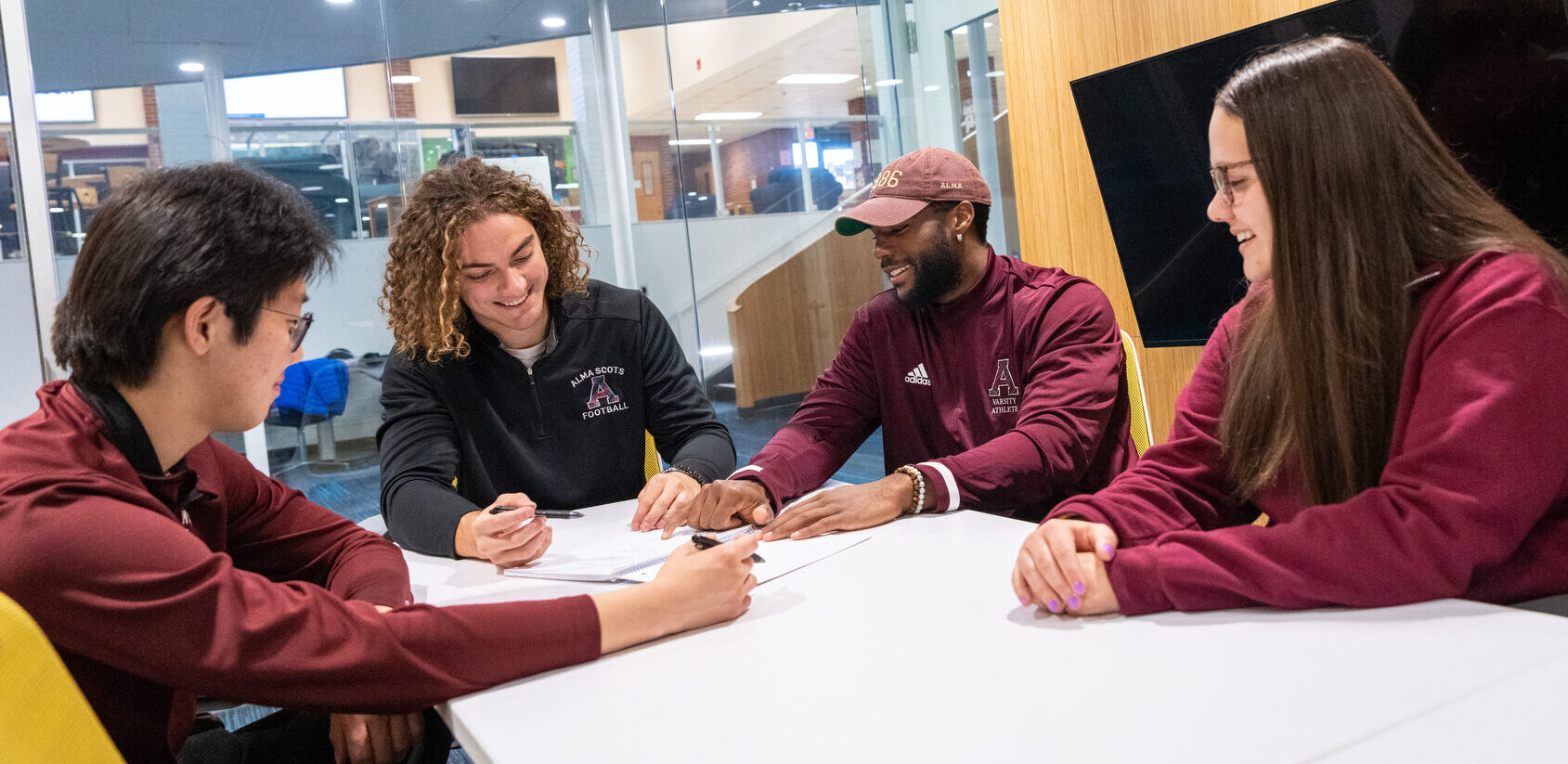 Admissions and Financial Aid
An education that puts you first.
At Alma, we customize your education to fit you. We help you discover your strengths, tap your passions and hone your ambitions to chart a path tailored exclusively to you.
Because we keep our classes small, you'll benefit from one-on-one mentorship from your professors, giving you the foundation you need to thrive. And since we prioritize learning through doing, you'll have more opportunities to do what you love, from testing an idea in the lab to scoring that winning touchdown on the field
At A Glance
100%
Students receive financial assistance from Alma College
#6
For Best Undergraduate Teaching in the Midwest by U.S. World and Report 2022
Back-to-Back
2022 and 2023 MIAA Football Champions
Choose Your Path
There are different ways to become a Scot, but all roads lead to Alma.
Opportunity begins at Alma
From hands-on research placements to travel and internships, at Alma, we pride ourselves on offering an education that's as unique as you. It all starts right here: plan your visit, start your application and explore financial aid options that make your college experience more affordable than ever.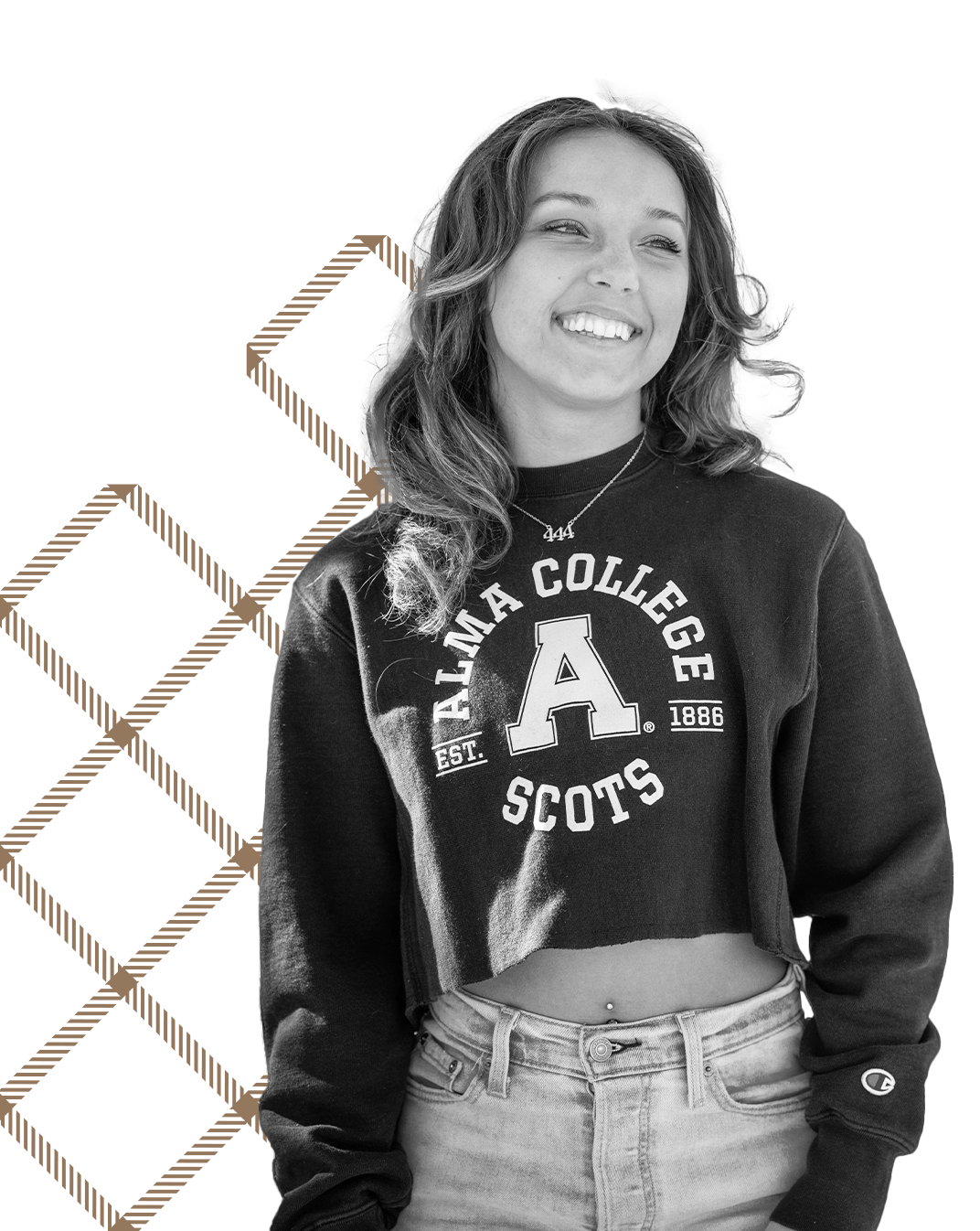 Our events are designed to show you the full Alma College experience. From our larger events to our personalized visits, you'll get a true sense of life at Alma. We offer admissions presentations and tours every weekday at 10 a.m. and 1 p.m., as well as select Saturdays. You can tailor your visit to suit your needs and get the questions you need answered.

Destination Alma

Spend your first time on campus exploring Alma College! Meet with admissions counselors, tour our campus, and mingle with faculty, staff, coaches, and current students over lunch.

All in for Alma

From our scenic mid-Michigan backdrop to the unique ways we celebrate our Scottish Heritage, there's no place quite like Alma. Join us on campus to see for yourself! Hear from a panel of current students, explore our historic downtown and learn from an alum how Alma can prepare you for your life's work.

First Week Friday

Getting serious about Alma? Join us for a closer look at what your first week could look like. Immerse yourself in the classroom setting and explore all that the campus has to offer. Parents and supporters are encouraged to join as there will be plenty of valuable information shared about the next steps leading up to the fall semester!
Alma Application

Find the right application for you

Apply

Ready to become part of the Alma College family? We make it easy with our free online application options. You can choose your application from the dropdown menu or submit an undergraduate Common Application.

We take the stress out of applying to college. Our rolling admissions process let's us evaluate your application as soon as we receive all of your materials.

Although our application stays open, we encourage you to apply by March 1, 2024, to allow time for exploring all financial aid options and scholarship opportunities.

Questions? Contact us
You can afford Alma

100% of our students receive some form of financial aid. Just by visiting and filling out your FAFSA, you'll earn a scholarship! The best part? Our team is here to help you navigate the process from start to finish.

Already applied to Alma? In order to ensure you receive the maximum amount of aid available, you need to fill out your FAFSA. The earlier you file your FAFSA the quicker you will receive your scholarship and financial aid package. The final deadline to file your FAFSA is June 30, 2024.  

Start Here

Net Price Calculator

Curious about what financial support may be available to you? This useful tool for prospective students and families helps you estimate what it may cost to attend Alma. At Alma, we believe there are no limits to your potential. And we're here to ensure there are no barriers to your success. That's why we offer a range of generous scholarships.
Looking for more?
Dive deeper into the admissions process at Alma, get to know our community— or simply reach out with any questions.
800-321-ALMA
admissions@alma.edu
Frequently Asked Questions