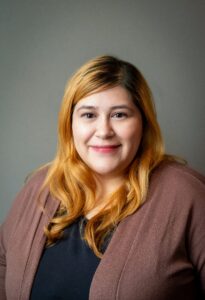 When Seny Gonzalez Guardado first began exploring the possibility of going into a Master of Fine Arts (MFA) in Creative Writing program, she felt surprised by what she found in the marketplace: hyper-competitive educational environments, built around the idea that students needed to stress out in order to become the best versions of themselves.
"I said to myself, 'I'm not really up for being brutalized in order to have success.' I just have these stories in my head and I want to do them justice," Gonzalez Guardado said.
Gonzalez Guardado has found a home in the Alma College MFA in Creative Writing program. There, she said, she has found the same, vigorous curriculum that the other programs tout, without the stress. Instead, Alma offers a group of diverse, experienced faculty mentors who want to see their students thrive, and a group of writers who want to uplift each other, rather than tear themselves down.
"I appreciated that in the application process, the Alma MFA offered something called a 'Decision Journal,' which is a series of prompts that makes you think long and hard about whether an MFA program is right for you," Gonzalez Guardado said. "Alma doesn't simply want to gain numbers — they want to have students who are confident in pursuing a graduate degree."
Gonzalez Guardado, a native of La Mirada, California, recently completed her first term in the MFA program, a winter residency that took place at the Ralph A. MacMullan Conference Center on the shore of Higgins Lake in Michigan's gorgeous northern woods. There, she said, she saw snowfall for the first time in her life. She also met her faculty mentor, Shonda Buchanan.
"Shonda is based in California, like me, and has a background in creative nonfiction, which is one of the areas that I want to pursue. So, on paper, it was a perfect match," Gonzalez Guardado said. "As I've gotten to know her, I've only really enjoyed working with her. Her feedback reaffirms my instincts. She doesn't tell you what to do, she takes you where you need to go."
The Alma MFA's low-residency requirement means that Gonzalez Guardado is able to hold onto her full-time job and spend time with her large family, which is very important to her. But given the 1-on-1 time she gets with her faculty mentor, and the energetic nature of the residencies themselves, Gonzalez Guardado is easily able to see progress in her writing.
"I have never had an experience like I had in my winter residency. Within two weeks, I had found a set of new best friends, and we went through so much together," Gonzalez Guardado said. "Through all of the lectures, the workshops, and the time spent doing inspiring activities outside of class, you come away from these residencies feeling excited to continue your writing path."
Gonzalez Guardado is looking forward to spending the Winter 2024 residency in Venice, Italy — one of the most perfectly preserved historic cities in Europe, with a sparkling literary reputation. She intends to dual-major in creative nonfiction and fiction, with the goals of eventually publishing a series of short stories, as well as a memoir that tells her family history.
For now, she says, she's content to be a part of this community, becoming a better writer and working toward a goal of personal fulfillment.
"I give a lot of credit to the director of the MFA program, Sophfronia Scott. She has built a program and a group of people who are so talented and welcoming — eager to offer you a seat at the table and make you feel like you belong. It's about raising peoples' stories and showing them that their words have value, and I really appreciate that."