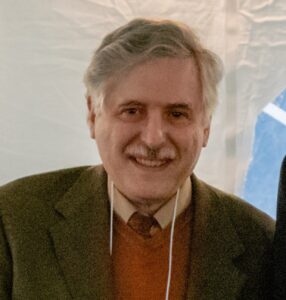 ALMA — Scott Messing, who taught music for 37 years at Alma College and served as advisor of the local chapter of the Phi Mu Alpha (PMA) Sinfonia Fraternity of America for most of that time, was honored this year by the fraternal organization for significant and lasting contributions "to the cause of music in America."
Messing, the Charles A. Dana Professor Emeritus of Music, received the Orpheus Award, which is given annually to one person in each of the organization's chapters. According to his nominators, Messing was chosen for his efforts as an "accompanist, a guiding figure, and an advocate to the school for our needs."
"(Messing) fondly remembers in his time advocating for our chapter to get a house to bring a greater connection between social and academic life," Messing's nominator stated. "Due to those efforts, we are one of a few chapters of PMA in the nation to have a chapter house. Beyond that, he deserved this nomination from our chapter, as he is one of the most prolific experts on music that we have ever met."
Messing retired from Alma College in 2018. Since 1986, he had served as faculty advisor of PMA, beginning when the chapter was re-incorporated, at the initiative of students, after a period of dormancy. He would serve in that function for the nearly the entire remainder of his career.
Messing said that he tried to take his role as advisor literally, in the sense that he would provide advice for students in PMA when asked.
"I always felt that the chapter belonged to the students," he said.
Regardless, Messing said, he took pride in PMA's numbers on campus, which at one point were greater than any other fraternity or sorority at Alma.
"A lot of them were not necessarily singers in the choirs or performers in the instrumental ensembles," Messing said. "Phi Mu Alpha was offering a set of values that were fundamentally different from the other fraternities on campus."
In 1991, Messing was named associate professor, followed by designations of professor in 1997 and Charles A. Dana Professor of Music in 2000. He was chair of the Alma College faculty for roughly 10 years, serving intermittently between 2002 and 2017.
Messing twice received the Barlow Award for Faculty Excellence and recently published his sixth book, "Self-Quotation in Schubert" (University of Rochester Press, 2020).
The Orpheus Award may be given to a "composer, performer, educator, entrepreneur, legislator, or a patron of the arts," a list of stipulations published by PMA states. Messing said he is proud to consider himself an "educator," based on that list.
"I was sort of bowled over when i read the reasons for giving the award," Messing said.