Explore, Focus and Integrate
Alma College aims to provide each student with a broad education, which includes knowledge, skills and understanding.
There's a lot more to your college education than a major.
At Alma, we take our mission seriously. We want all our students to become well-rounded critical and creative thinkers — thinkers who can adapt, learn, and solve all sorts of problems in life after college. We care so much about this that we built our core curriculum around our mission.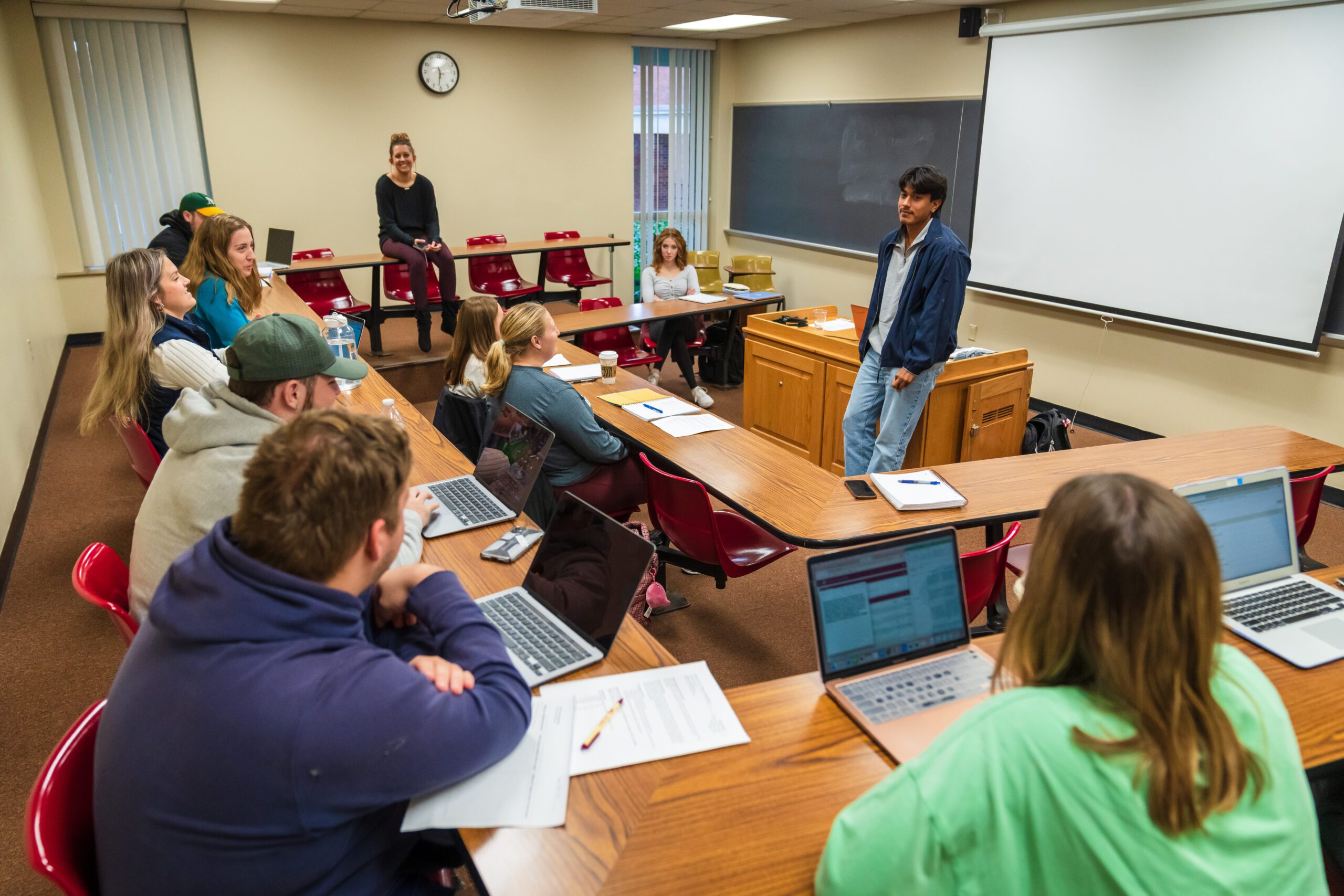 It's not about a list of courses you "have to take" or boxes you need to check.
 It's a sequence of stages that move you from foundations to exploration, to question-driven interdisciplinary study, and finally, to applying all you have learned (in your major and in your core coursework) to work with others to understand, build, create, or solve something together.
We think of our curriculum as a tree.
It grows from the roots, branches out, and is always reaching for the sun. It's always growing. You are always growing into a better thinker and problem solver, and you are always growing into a wider and deeper perspective about yourself and the world around you.
It starts with the roots of your critical thinking.
Establishing a Foundation
In your first-year seminar, we introduce you to our mission and our vision of a college education. We help you with the transition to college-level expectations for critical thinking, reading, and writing. You will also develop these skills in other foundational coursework—courses in college writing, mathematics, and world languages. All of these courses ensure you have the skills you need for more advanced critical thinking and writing. They also prepare you to take perspective and understand your own place in a larger world. Foundation courses are taken in the first year.
Explore Different Perspectives
Explore courses offer you an insight into different ways we can know, interpret, and express things about ourselves as well as the natural and the social world. There are four different types of Explore courses, and students select one course from each type: Making and Understanding the Arts, Examining Self and Society, Applying Scientific Thinking, and Pursuing Justice, Equity, and Inclusion. These courses introduce you to thinking across disciplines. You explore subjects that might be possible majors, but you also learn about how critical and creative thinkers can look at problems and questions with different lenses and different tools. Explore courses are taken in the first and second years.
Focus on what Matters to You
The next stage of the curriculum is about questions—about what questions matter to you, and how different disciplines offer tools to understand, explore, and even answer those questions. You take three courses from different subjects that all explore a common theme. Themes are built around questions like:
How do we respond to the environmental crisis?
How do we navigate questions of human rights?
What stories shape how we understand ourselves and our world?
How do technology, media, and culture shape our beliefs, choices, and actions?
What does it mean to be human?
How do we explain fundamental mechanisms of human body functions?
What cultures and identities shape who we are?
Purposeful Integration
A capstone to the curriculum, Interdisciplinary Seminar is a mission-themed course that focuses on applying the liberal arts to a complex and meaningful question. You'll work collaboratively with students from all different majors to think and respond ethically to a question or problem, and in ways that acknowledge and respect diverse perspectives, contexts, and cultures involved in the issue. In your interdisciplinary seminar, you will also do one of the most important things that all lifelong learners do—reflect, assess what you learned, how you learned it, and think about what you want to continue to learn.