Love music? There's a place for you.
More than 25% of Alma students join one of our musical ensembles — and so can you!
Whether you plan to pursue music professionally or simply like to perform, at Alma, you'll find countless ways to channel your passion.
Our instrumental ensembles are known for their breadth of genres, challenging repertoire and high-caliber concerts.
Your gift for music can help pay for college, too. We encourage all students, regardless of major, to apply for one of our $1,500 annual performance scholarships.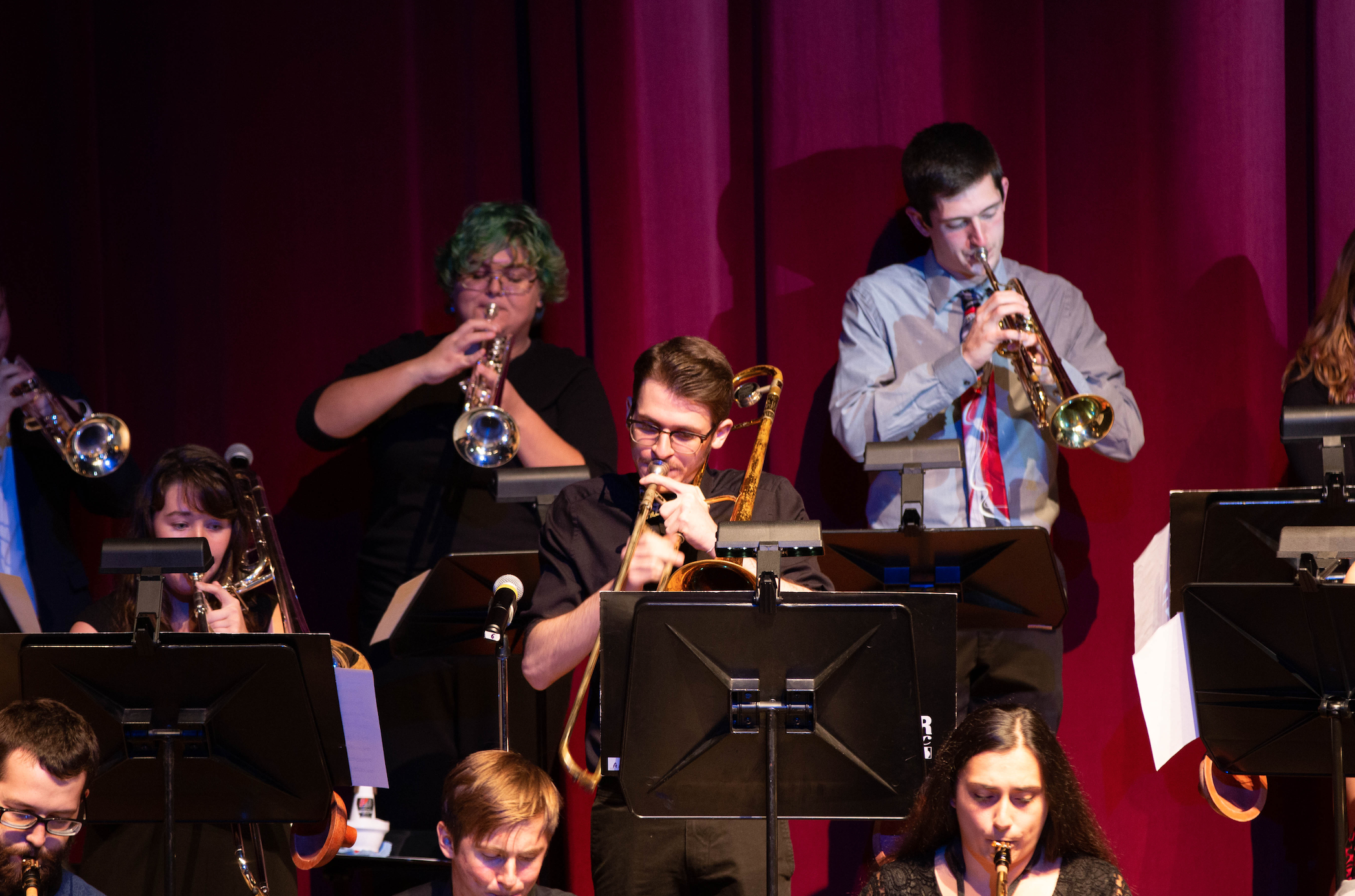 March to Your Own Beat
From celebrating your Scottish pride to indulging your love of jazz, there's something for every music enthusiast in our 12+ ensembles.
Alma Chamber Orchestra. Experience the joy of playing great orchestral music alongside students and community members. As a member, you'll enjoy a relaxed rehearsal atmosphere, tackling pieces by Mozart, Mendelssohn, Holst and many others. Our performances are well-attended by the wider community.
Alma College Pipe Band. The sound of bagpipes has become an iconic symbol for Alma College! Our award-winning Pipe Band is registered with the Midwest Pipe Band Society. Our pipers and drummers perform at campus events, local parades and regional festivals. We also attend at least one competition per year.
Jazz Ensemble. The Jazz Ensemble plays a mix of big-band jazz and jazz combo literature at its three annual concerts. The Jazz Ensemble also hosts a yearly high school jazz festival on Alma's campus.
Kiltie Marching Band. At almost 100 members strong, our kilt-clad marching band produces corps-style shows. In addition to home football games and parades, the band has performed at Disney's Epcot, the Detroit Thanksgiving Parade, NCAA Division III playoff games and more.
Kiltie Wind Ensemble. Each winter, the Kiltie Wind Ensemble plays the best in college-level wind band repertoire. The Kiltie Wind Ensemble has performed throughout mid-Michigan and collaborated with guests such as Donald Hunsberger and Vincent Persichetti.
Percussion Studio. Our Percussion Studio impresses audiences nationwide through concerts, tours and recordings. Ensemble members are in frequent demand as private instructors and percussion coaches. And our alumni have performed with the Dallas Symphony Orchestra, the Oklahoma City Philharmonic and more.
Wind and Percussion Consort. Featuring the top performers from the Kiltie Wind Ensemble, this group plays high-quality wind band literature, both contemporary and traditional.
We also offer several chamber groups, including the Horn Ensemble, Flute Ensemble, Tuba Euphonium Ensemble, Trombone Ensemble and Brass Quintet, along with three campus choirs.
Want to hear what we're all about? Come sit in on a rehearsal or catch one of our many concerts.