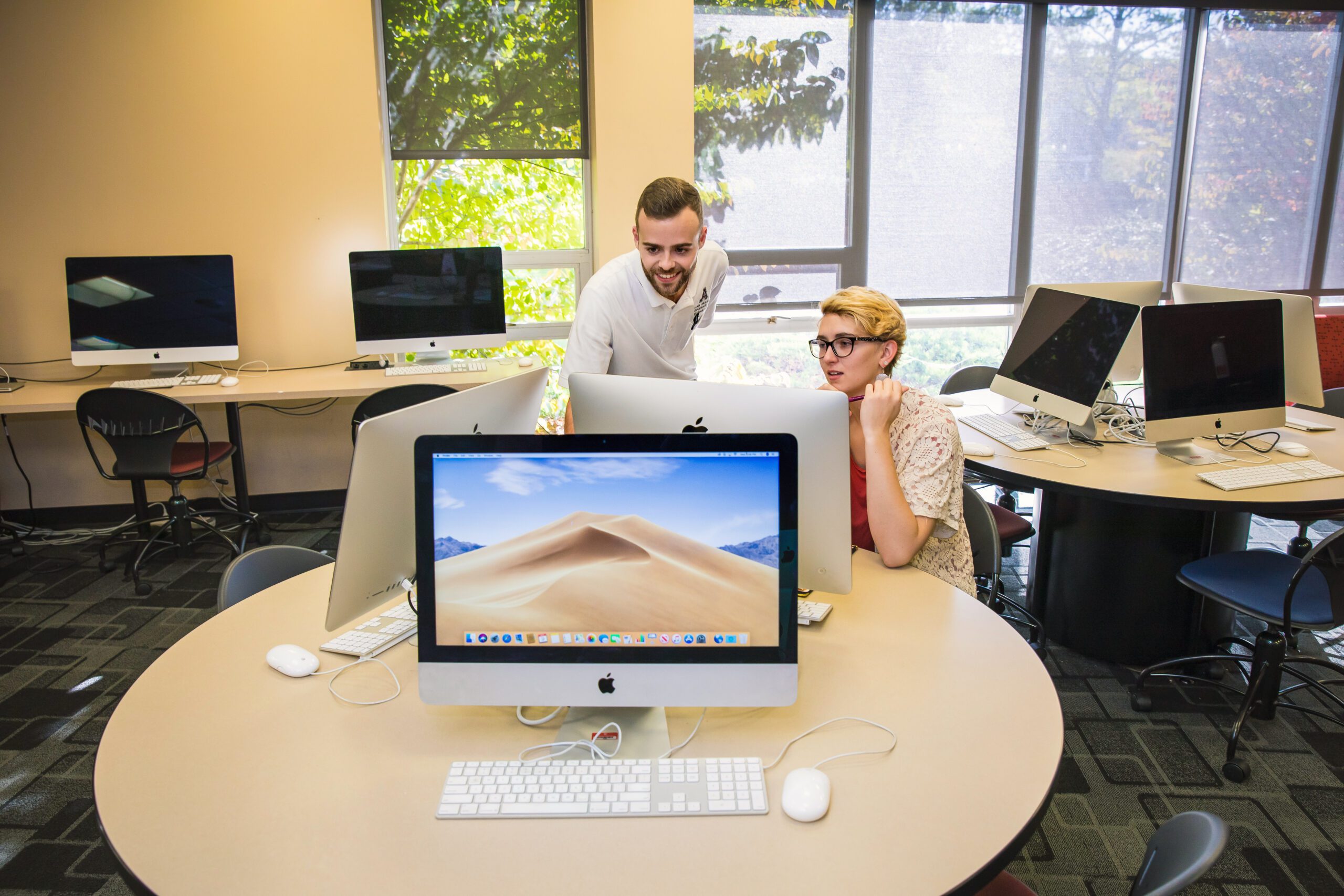 Information Technology Services
We are here to help you with your technology questions and concerns.
Service Desk
To submit a ticket for IT support, or if you have any questions or concerns, please fill out the ITS helpdesk form, email helpdesk@alma.edu, or call (989) 463-7303. You can also visit the help desk in Swanson Academic Center, room 117 or the Learning Commons help desk.
Guest Access

Wireless network access is available in all campus buildings and living spaces. Students, faculty, and staff can access this wifi for free using their Alma College email and password.

Guest Access

Guests can access the campus wireless network using a one-day guest pass. To use the guest wifi, follow the instructions below:

Connect your device to the "ACGuest" wireless network.
A system browser will open automatically to the registration page in most cases. If a browser is not automatically opened, manually launch your preferred browser to any non-secure web page. You will be redirected to the Alma College registration page.
Enter your name and email address, then click the Register button.
You should be redirected to the Alma College homepage, at which point the guest registration process is complete

Guest users requiring longer than a one-day pass should contact helpdesk@alma.edu for assistance.
Resources

Alma College ITS provides a diverse range of resources to support the needs of the campus community.

There are several department-specific labs and two general purpose computer labs (The Digital Media Commons and Learning Commons Makerspace). These labs provide access to a comprehensive suite of software applications, including Microsoft Office and the latest Adobe Creative Cloud applications.

Located on the first floor of the Swanson Academic Center, the Digital Media Commons (DMC) is a hub for collaboration and innovation. The DMC houses a state-of-the-art computer lab with short-term Dell and Apple laptop checkouts.

The Learning Commons Makerspace, located in the Greg Hatcher Learning Commons, is a dynamic environment with a full computer lab, production studio, a pre-production space for collaborative brainstorming, equipment for podcasting, and audio/video gear training and checkouts. The space also offers access to 3D printers and Virtual Reality, allowing students to immerse themselves into new creative and educational experiences.
Online Learning

The following resources are available to support online learning.

Canvas – The Canvas Learning Management System (LMS) allows you to post course materials, perform assessments, and much more. The Canvas app is available for mobile devices if a computer is not available to end users.
Microsoft Teams – Teams provides the ability to interact/chat with a group of users using video, audio, text, and screen sharing. You can provide a single link for a series of meetings on your Canvas page. Session recording is now available. Users without internet can call in to participate over audio. The Canvas app is available for mobile devices if a computer is not available to end users.
Lecture Capture and Delivery – We can currently support lecture capture and delivery through a couple of methods. You have the ability to record videos with your webcam/microphone on your computer through tools in Microsoft Teams. Videos recorded with Microsoft Teams can be embedded in Canvas. We also have a space available in the DMC (SAC 117) specifically for recording lectures and on-screen writing with our Jamboard.
Specialized Software Delivery – Titles including Maple and SPSS can be delivered through a web browser to off-campus devices using Virtual Desktop Infrastructure (VDI).  Talk to ITS if you have the software you would like to see added.
Phone Twinning – Your office extension can be twinned with a personal landline or mobile device.  This allows your incoming calls to ring directly to an off-campus phone.  The service may be turned on and off through the portal.
IT Support – ITS is able to provide web-based remote support for internet-connected personal or college-owned devices on or off campus.
Technology Discounts

Alma College students, faculty, and staff are eligible for discounts on hardware and software through the vendors listed below.

Computer Discount Warehouse, e-Academy and leading software vendors offer discounts to students, faculty, and staff on selected products from Adobe and Microsoft. Software products include Microsoft Project and Visio, Adobe Creative Cloud and other programs for Windows and Apple computers.